Dub Scene
By topcarpics | On 28/04/2016 | Comments (0)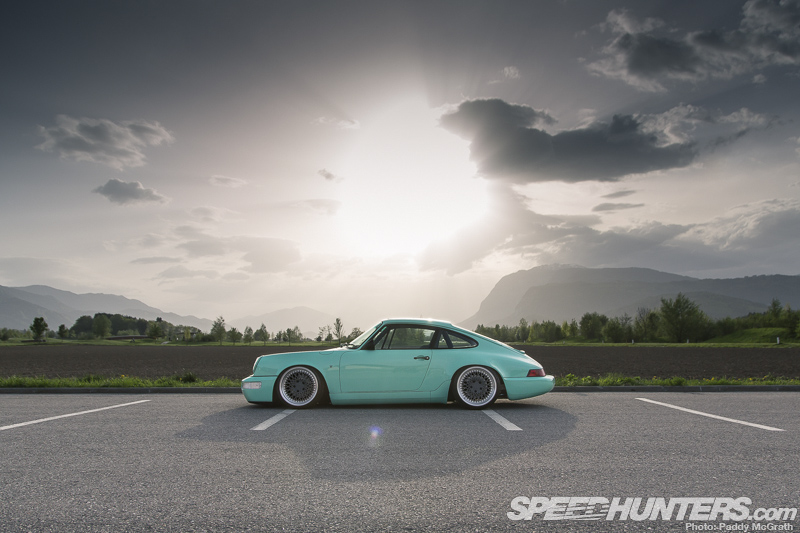 I want to hate Brian Henderson, I really do. In a purely 'grass is always greener' type-of-way, he's living the dream. He's living my dream at least, and many other people's too. You see, if you live in the UK, and you're into Volkswagen tuning, then Southern California is like some sort of holy place for all things VW. In fact, it's kind of a holy place for automotive tuning of all kinds. Plus, SoCal is blessed with this thing called sunshine. If you think it sounds like I'm complaining, then you'd be right; I am. Last year in the UK summer was on a Tuesday. I joke not.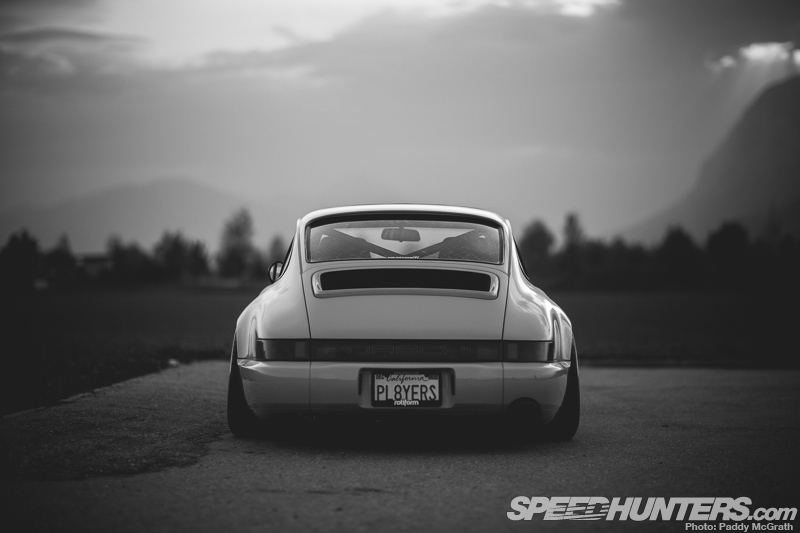 As much as I want to hate Brian, I also respect him. Not because he's put together this eye-popping 964. Nope, that's not really it. Mainly because in just four years he, along with business partner Jason Whipple, has managed to create arguably one of the hottest wheel brands in the world. Rotiform is an exciting name in the wheel game.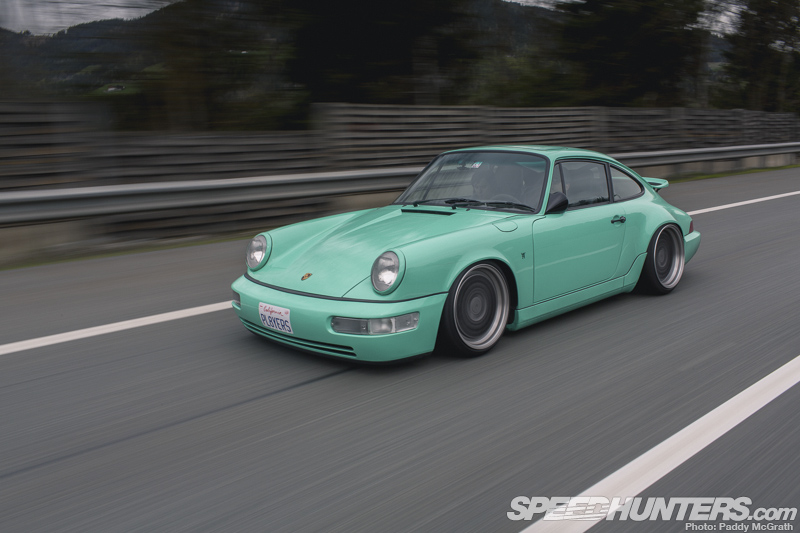 If you've followed Rotiform from the beginning you'll know full well that its project build speed is nothing short of relentless. Cars get turned around in an incredibly short space of time. Airlift, KW or H&R suspension boxes arrive at the shop and within a matter of days – sometimes even hours – photos are going up online of the latest project dropped a whole load closer to terra firma. Sometimes its cars are built for ultimate handling, other times just to look cool. No matter what though, Rotiform builds are always fun.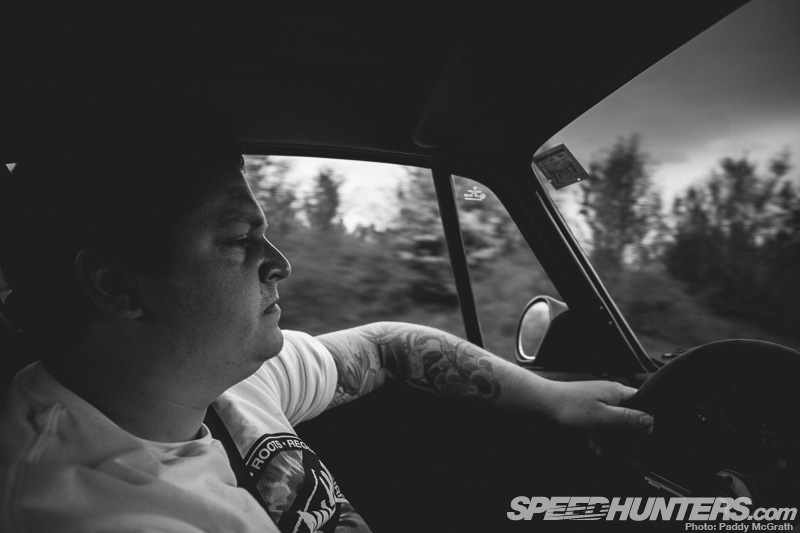 Some people walk the walk, whilst others talk the talk. Brian Henderson definitely falls into the aforementioned category – when it comes to cars, there's not a great deal of talking and more a whole load of doing. In fact, with Brian, it almost seems like there's no point in talking about what's going to happen at all. There's simply no time for it.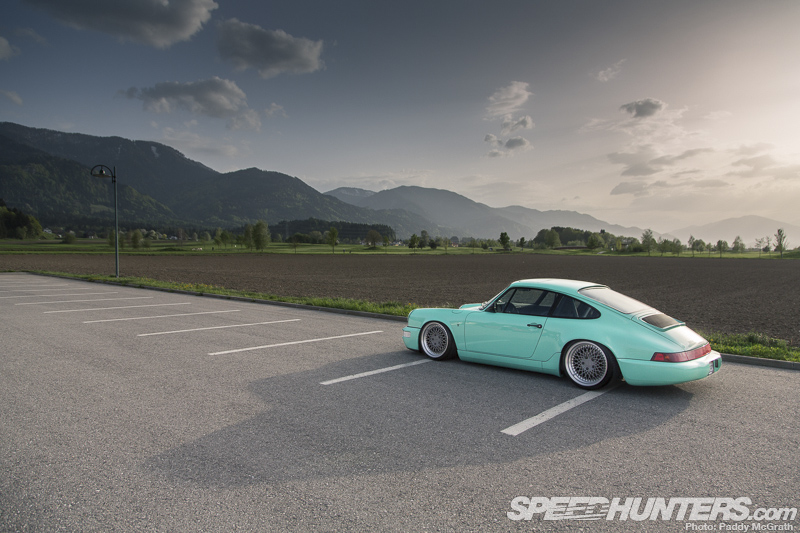 Of course, there's a seemingly endless amount of wheels to build for Rotiform's ever-growing customer base. Because that's what it's all about, isn't it? I mean Brian wouldn't be doing this car building nonsense for any other reason than to promote the brand, right?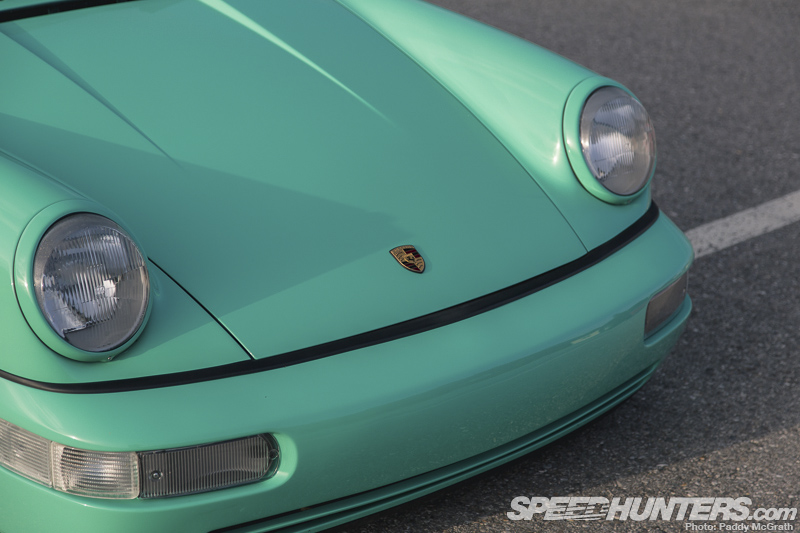 Actually no. The guy's as obsessed as the rest of us. He's addicted to all things automotive. His long suffering wife, Deanna, can't complain about this lifestyle of car culture. Way back when Brian and her had only known each other for less than a couple of months, she went 50/50 with him on a super-cool 1963 Cadillac. Deanna fuelled the fire and now things are so far gone there's little point trying to put out the flames.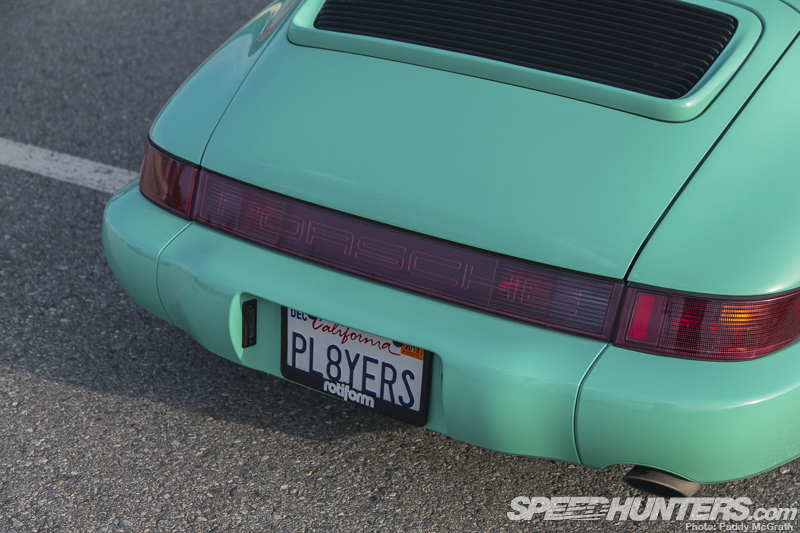 But this Porsche 964 didn't always look all minty and nice.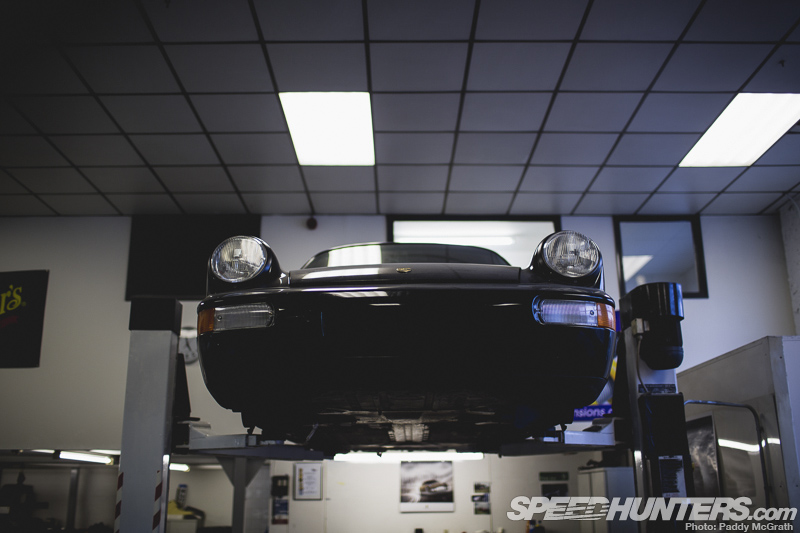 Nope, the road to peppermint green started earlier on this year when Brian took the decision to put his beloved 964 into a container and ship it from Los Angeles to London. Richie atMilestone71 was to orchestrate the build and, as always with Brian, time would be of the essence. The transformation would take weeks and the deadline was to be Wörthesee show. This would involve an epic European road trip taking in multiple countries and thousands of miles straight after the completion of the build. The 950-mile journey to Velden is Austria would be the Porsche's shakedown. See what I mean about walking the walk?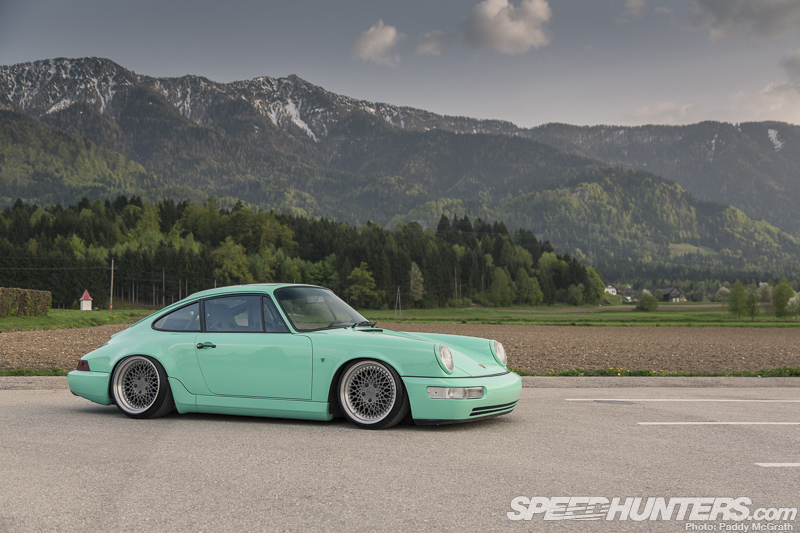 Would the car be done in time? There was only one answer – yes, it had to be. Would the car make it? Well, I can't kid you and hype it up. There will be no sense of drama and no will it or won't it kind of play in this story. Paddy's photographs of the killer 964 in front of the Austrian mountains more than give the game away. Furthermore the car featured in Paddy's epic road trip adventure story covering our journey to Wörthersee which was posted a handful of weeks ago. So of course, yes, Brian's 964 made it to the Wörthersee.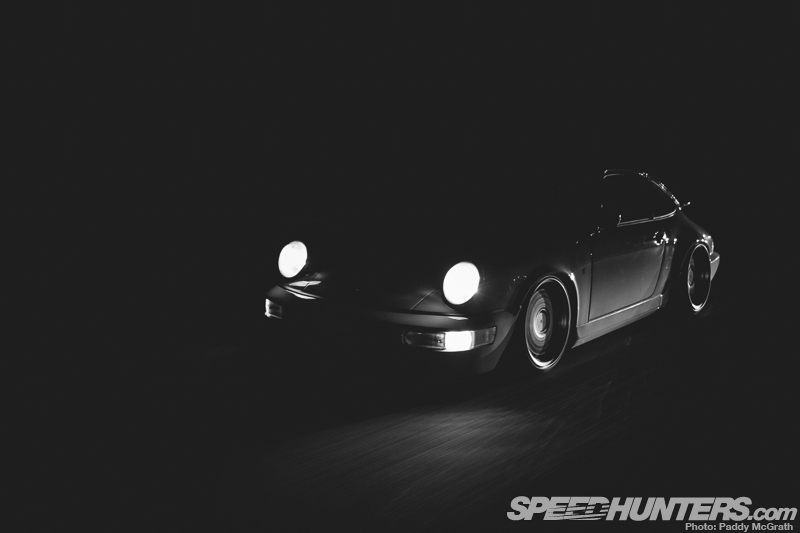 In fact the car didn't just make the journey, it positively tore its way through the night baiting 997 Porsches and Audi R8s all the way up to speeds of 165mph on the German Autobahns. This is no show queen.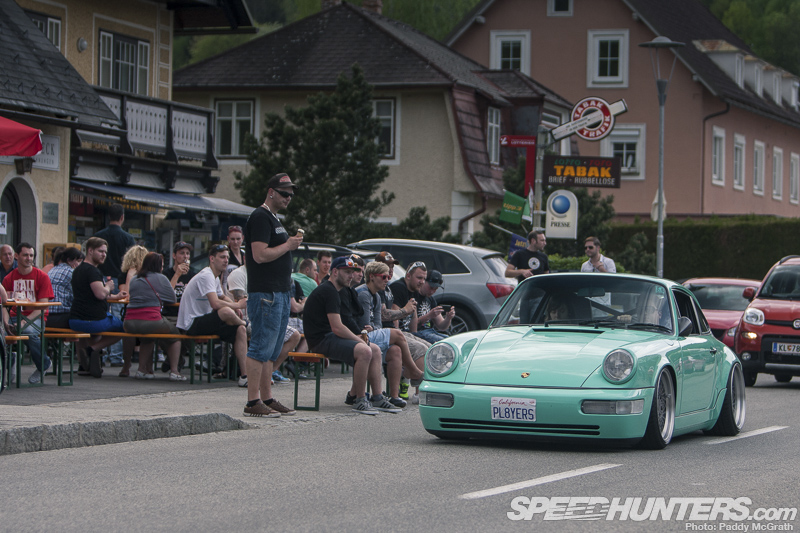 One year earlier Brian had stood outside this cafe/bar in Reifnitz and dreamt of having his own car at the Wörthersee. Twelve months later and that day dream became a reality.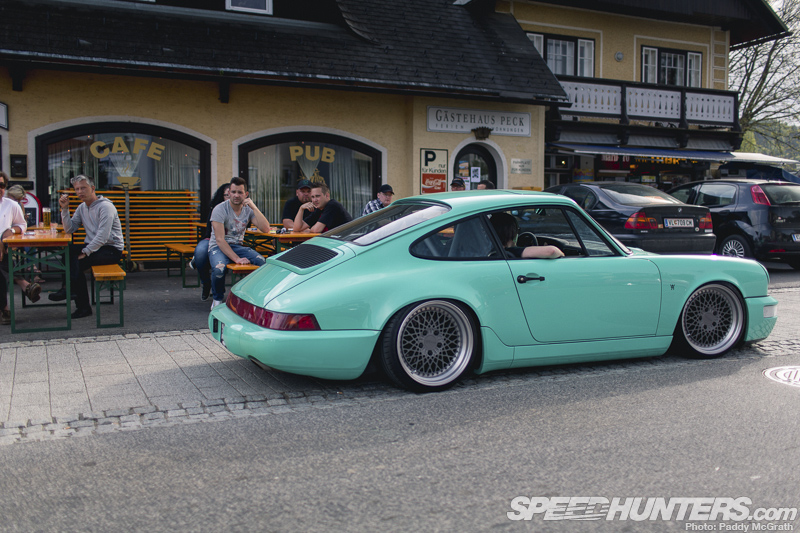 I guess this photograph kind of embodies the spirit of making things happen.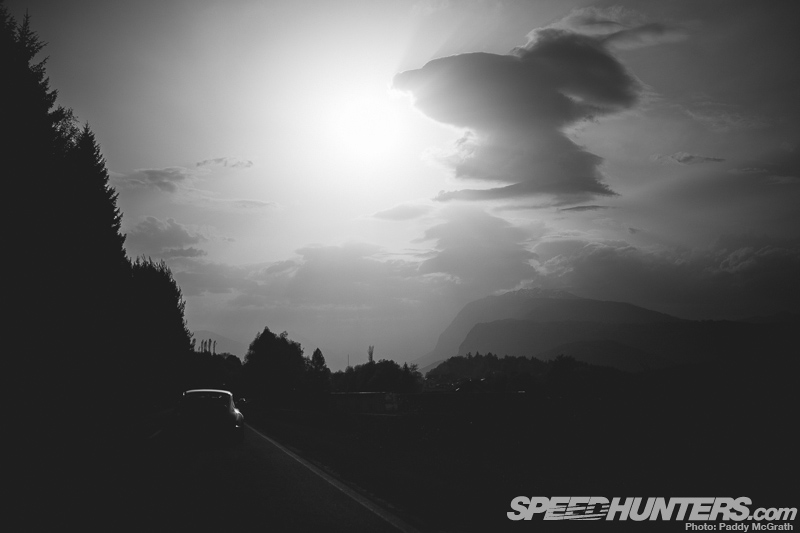 I don't think Brian stopped smiling all week. Seeing him drive literally all around the lake hitting up various car meets in the Austrian hills was really cool. You couldn't get him out of the car.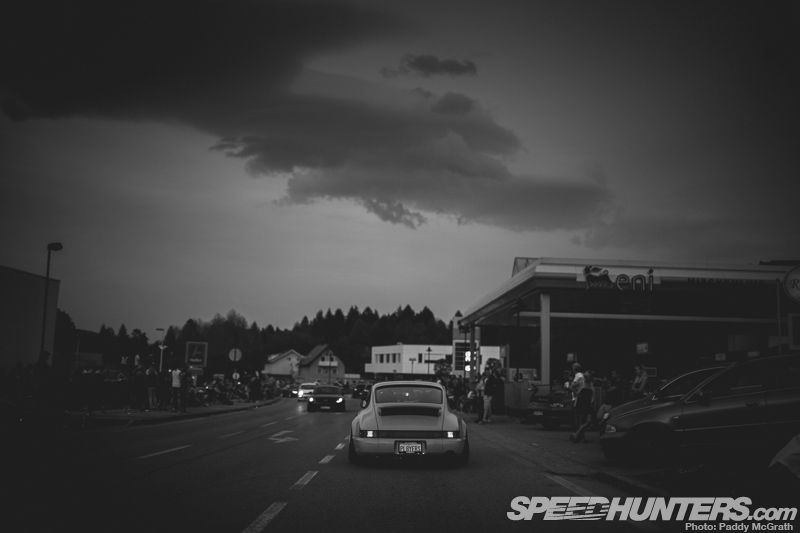 He would stop for dinner and then be straight back out in the Porsche again heading up to theShell Eni Station until the early hours of the morning.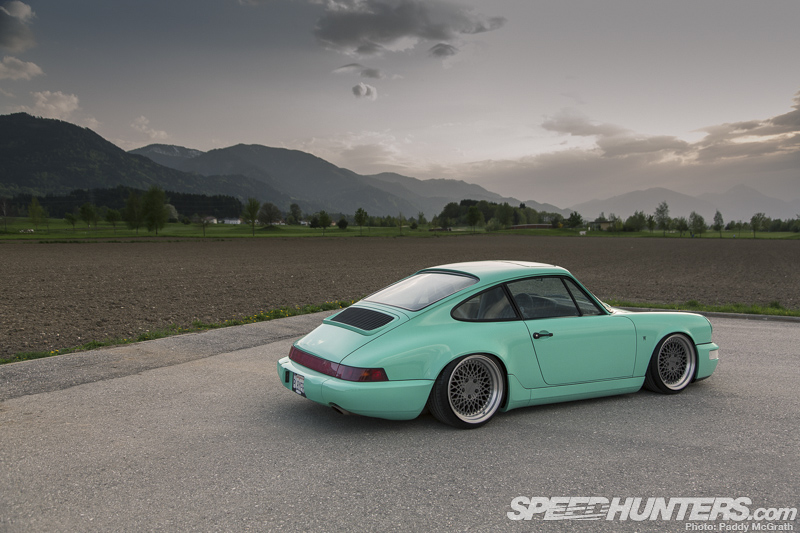 The 964's journey to Austria is not just a testament to Brian's ballsy attitude. It goes way further than his commitment to creating his dream car and driving the freshly-completed Porsche a very long way. It is, of course, a massive salute to those involved in the build.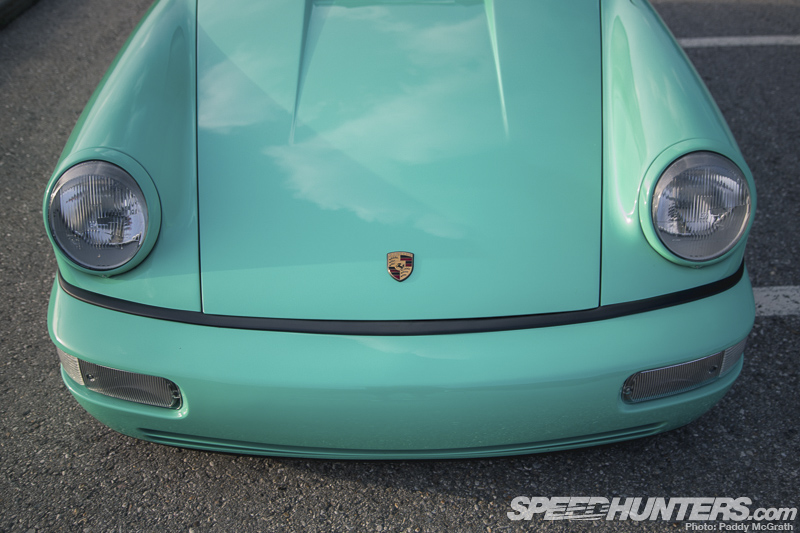 Mr Steve Denton, famed painter of many a Volkswagen show car here in the UK, and head man at StyleHaus, took care of the bodywork.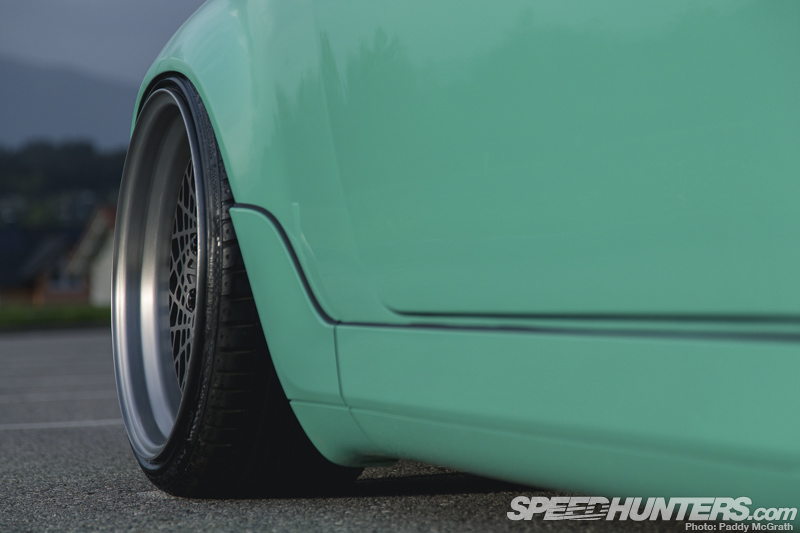 Denton is one of the founding members of the famed Edition38 Show is well known for his obsessive prep work. This shows in the Porsche's arrow-straight body and the result is all-killer.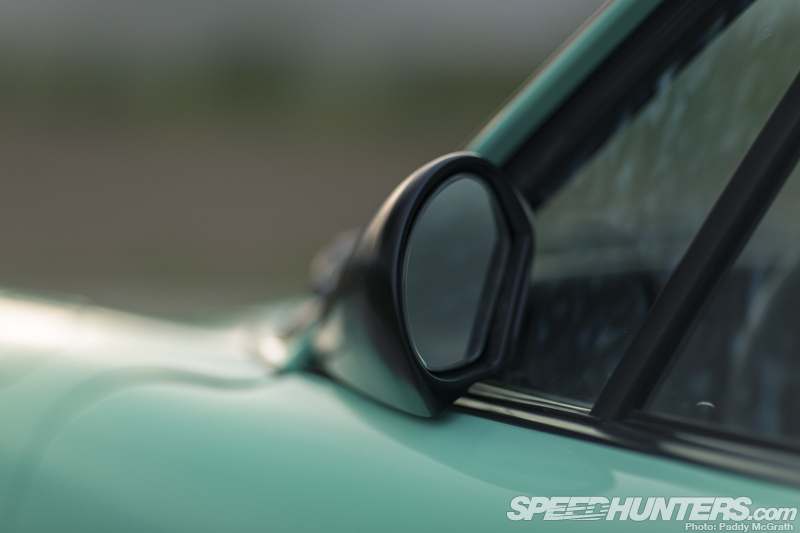 Neat little touches adorn the car's exterior and you find yourself looking at parts of the car wondering what's been changed-up. I really like this when a car has me a little bit confused for a few moments whilst my brain works out why I am drawn to an area. The single AP Car Design mirror fitted to the driver's side is cool. The passenger foregoes rear viewing thanks to a custom StyleHaus baseplate that shaved the OEM mirror. Less is more.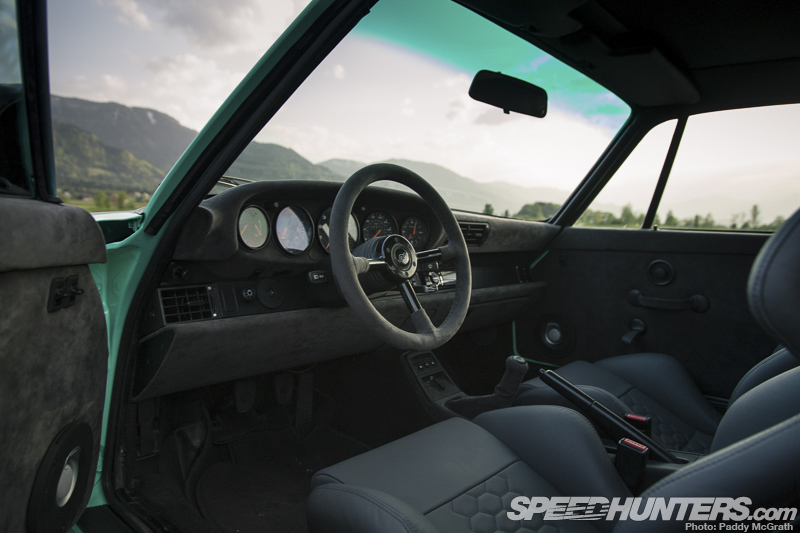 The interior has been completely re-trimmed by Plush Automotive and a lovely combo of leather and Alcantara has been mixed together perfectly.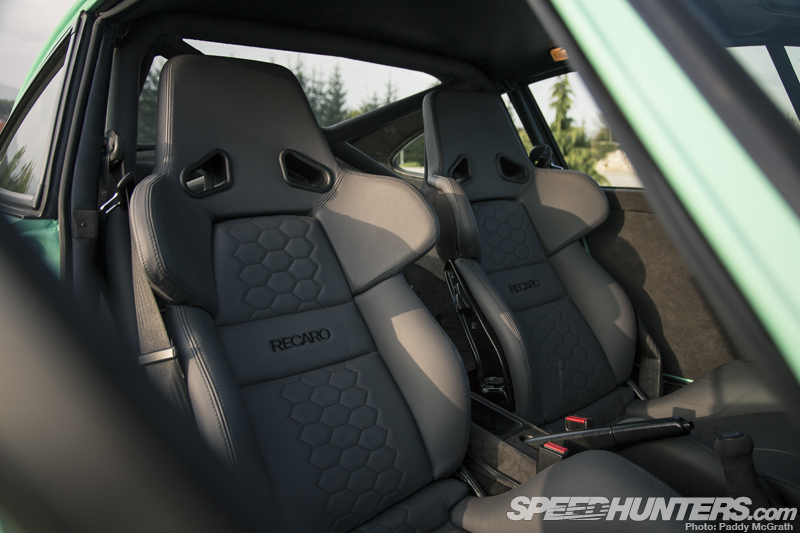 This cocktail is all well and good, but it's attention to detail that really makes this 964's innard's special.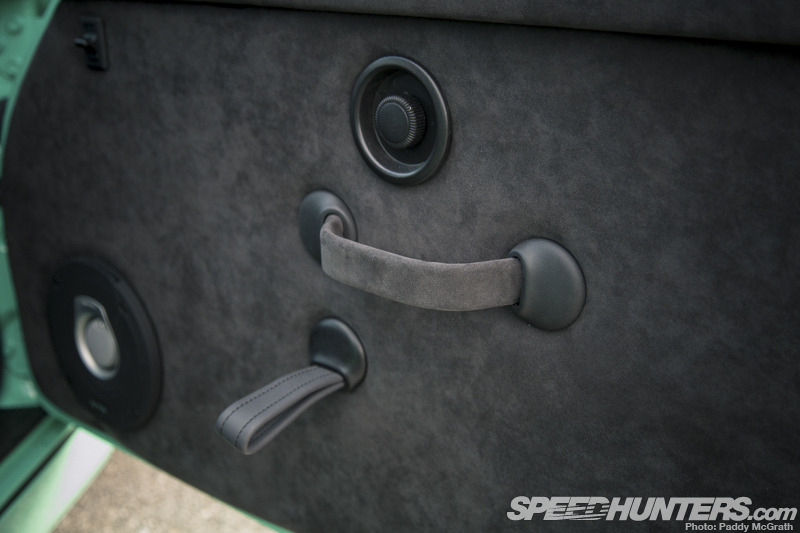 The RS door pulls…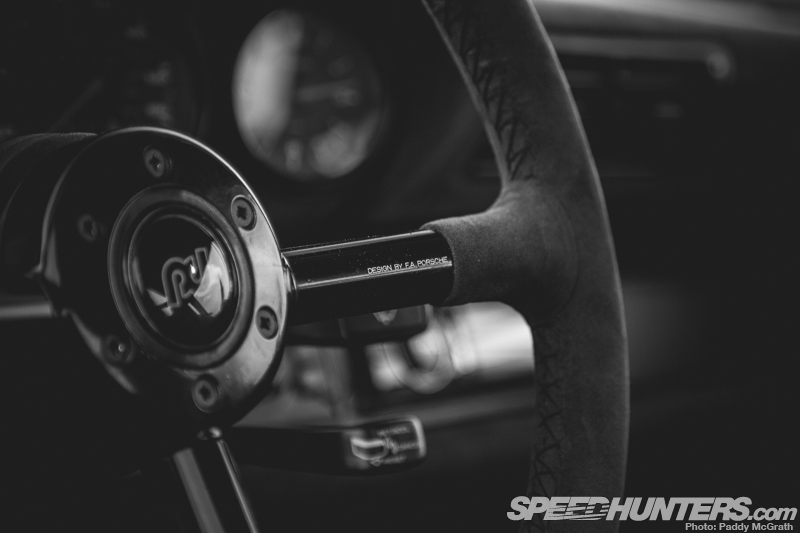 … stunning hand-stitched steering wheel…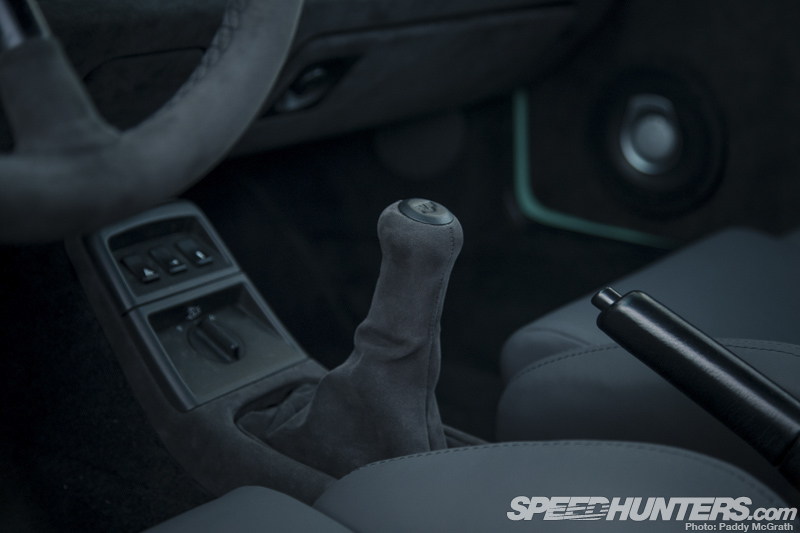 … and the RUF gearshift knob are super-cool additions.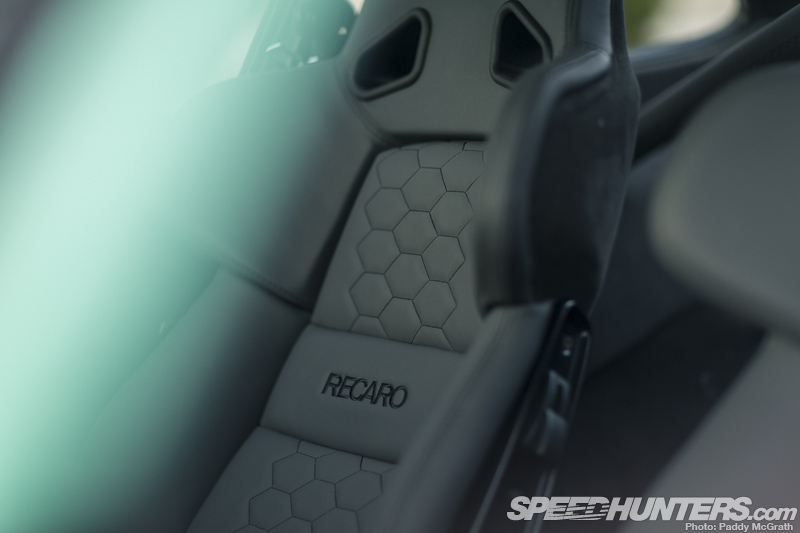 No matter what, though, I cannot stop my eyes being drawn to the gorgeous A8 Recaro seats. These are very rare indeed. Not just 'eBay rare', but genuinely hard-to-find-rare. The fit is snug. And this is only the second time I have ever sat in an A8 seat. They feel really good and work very well in the Porsche 964. The needlework is very tight too. These seats, for me, are the best interior modification by a country mile. Plush has done an awesome job.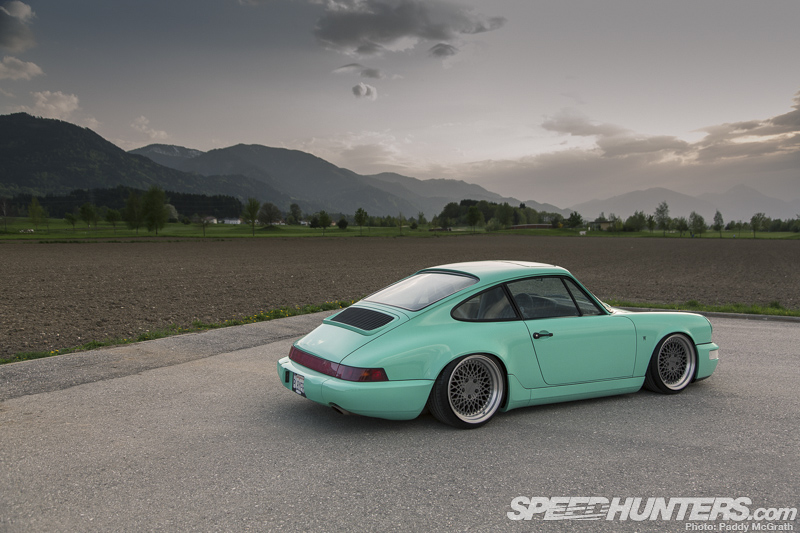 From every angle the Porsche 964 looks great. Brian specifically did not want to go for a wide body conversion on his 911. He wanted to keep things simple and add his own touches to the timeless design. Once the car had landed in the UK the Players Show guys took care of shipping the car from Milestone71 to paint shop to trimmers. Brian has his friends on this side of the pond to thank for all of their help and support.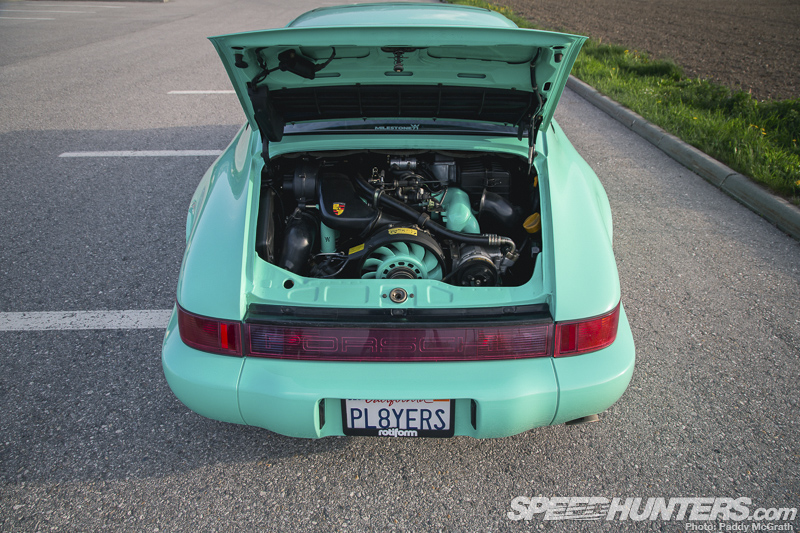 The license plate is a gentle nod of appreciation to his friends over here in the UK.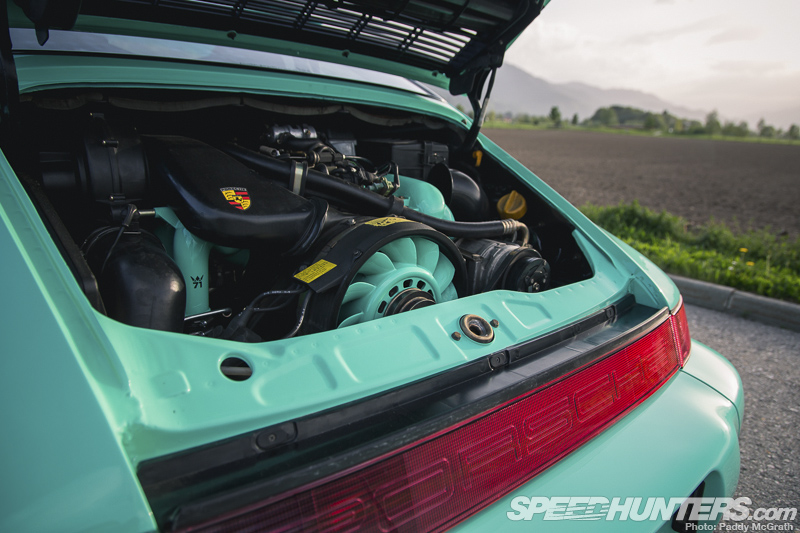 Motor-wise, the strong 3.6-litre lump has been treated to a whole host of parts from Milestone71 along with a full refresh courtesy of Rich's factory Porsche training and skill. The Milestone71 shop logo subtly features on the pipework in the bay. Richie, along with fellow spanner wielding expert Aaron Smith, swiftly re-assembled the 964 with just a day to spare before leaving for Austria.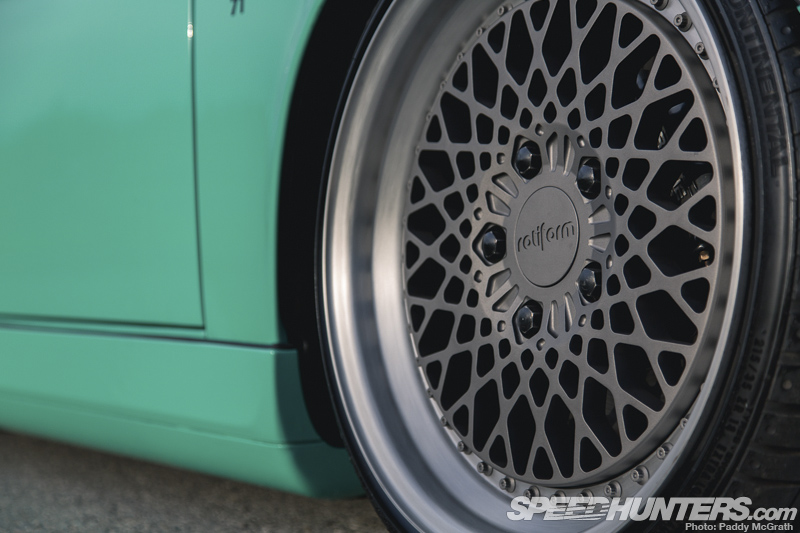 Of course the wheels for the Porsche were ready and waiting to be fitted up and the car. Dropped using H&R suspension, looks very well on them indeed. Weirdly enough, the wheels don't feature a crazy colour or wild finish. The reason being that, once again, Brian wanted to complement the 964's design rather than take the eye away from the stunning body line. These Rotiform LHR wheels, with ceramic charcoal centers and bolts combined with brushed and satin clear coat lips, are relatively low key.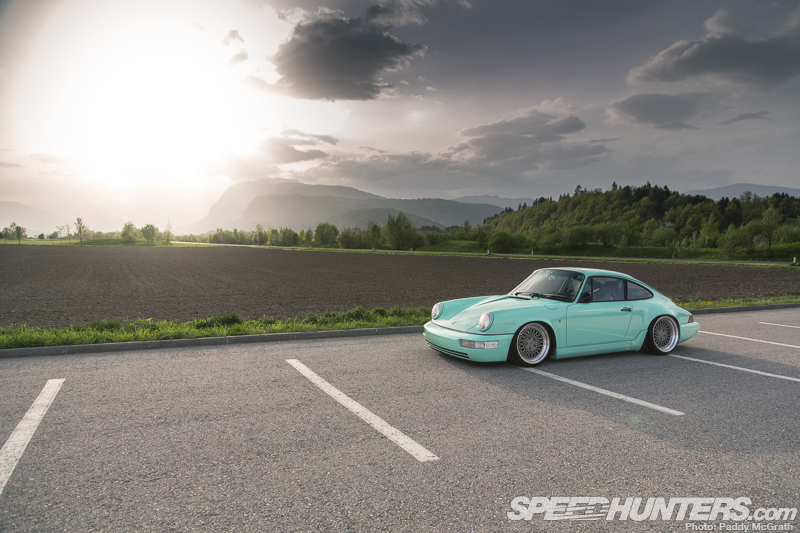 You see the Rotiform guys build wheels to cater to each and every customer's taste. From day one Rotiform offered rare BBS rebuilds, some seriously well executed step-lip conversions and awesome refinishing. The company quickly became the 'go-to' place for bespoke rolling stock. This combined with its well-selling cast range and much hyped; all-forged mono, split and race wheels made the Rotiform brand completely blow up worldwide. The secret to the success of the Rotiform story? When it comes to its wheels, you can have, quite literally, whatever you want.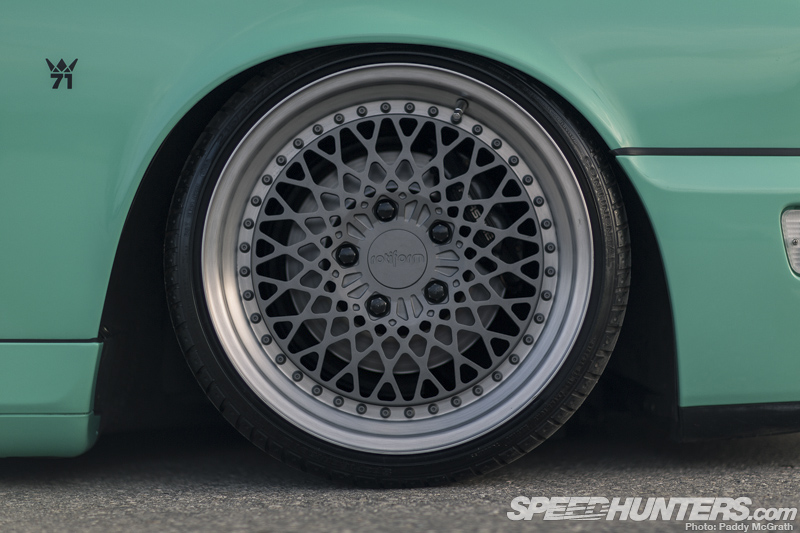 The company is based upon making people's wheel dreams become a reality. It just so happens that in the month of May this year, 2013, Brian Henderson's Porsche day dream was realised and it became a week long adventure for the man from SoCal. Whilst I celebrate the greener grass of Southern California, Brian can look back on an epic drive across Europe. He drove his 964 to Austria. And he spent every hour he could behind the wheel of his Porsche that week. He even went to the Nürburgring and got some laps in on his way back to the UK.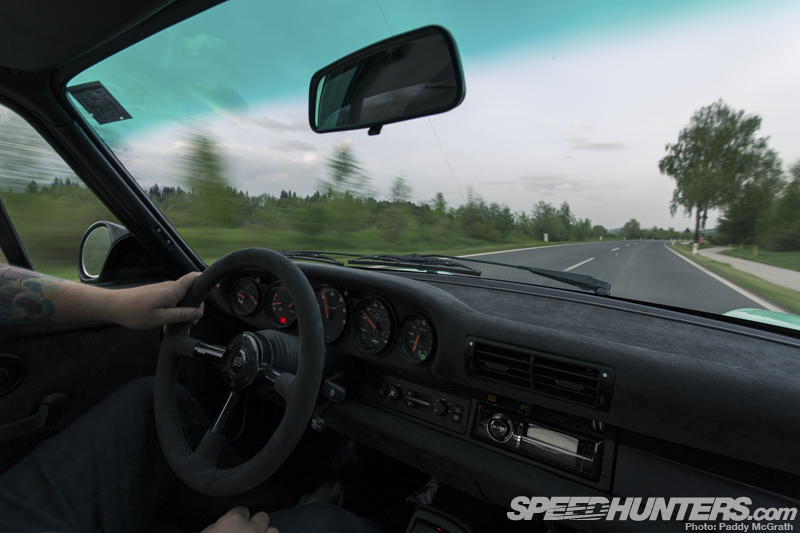 What I'm beginning to realise is that the grass is only as green as you make it. And before your fingers hit those keys and you make a decision on how you feel about a super-low 964 that's not all perfectly corner weighted on a track-pleasing wheel and tyre combo, just think: are you walking the walk or talking the talk? From the point of view you see above; I reckon it's all about walking, not talking.
Words by Ben Chandler
Twitter: @Ben_SceneMedia
Instagram: @ben_scenemedia
Photos by Paddy McGrath
Twitter: @PaddyMcGrathSH
Instagram: speedhunters_paddy
paddy@speedhunters.com
Brian Henderson's 1990 Porsche 911 Carrera 2 (964)
Engine
Milestone71 cup headers, Milestone71 cup cat delete, Milestone71 cup primary muffler delete, Milestone71 exhaust tip, colour matched intake, valve covers and fan, 964 RS clutch and flywheel
Suspension
AH Exclusive/H&R Motorsport coilovers, H&R sway bars
Wheels/Tyres
18×8.5-inch & 18×10-inch Rotiform LHR with ceramic charcoal centers & bolts with brushed and satin clear coat lips, 215/35R18 and 255/30R18 Conti Sport Contact 2 tyres
Exterior
964 RS dummy foglights, AP Car Design clear bumper lights, StyleHaus shaved front license plate recess, StyleHaus shaved tow hook front & rear, StyleHaus shaved mirrors, StyleHaus full respray in Porsche Peppermint Green, StyleHaus rolled/pulled/smoothed fenders (arches), AP Car Design carbon cup mirror (drive side only), 964 RS clear rear windscreen.
Interior
AP Car Design 1/2 cage – leather-wrapped and stitched by Plush Automotive, Recaro A8s re-trimmed by Plush Automotive – leather fronts and alcantara backs, RUF shift knob re-trimmed by Plush, Momo X Porsche Design steering wheel & hub re-trimmed by Plush, 964 RS door panels re-trimmed by Plush, 964 RS rear carpet kit, Dash, center console, etc trimmed by Plush, Kenwood head unit & speakers
By topcarpics | On 18/04/2016 | Comments (0)
Evolution is a funny thing. I'm referring to the process that means we're all constantly evolving and modifying ourselves and our environments to better suit us. The unswerving need for everything to be better is what makes us human. It's what made us walk upright and work out how to harness electricity. But when that spirit is satisfied, comfortable even, it can mutate and run a little wild with some pretty spectacular and unpredictable results at that. Like a 4WD Mk3 Golf with over 550hp at the wheels, Advan wheels and roof-mounted air intakes… And yes, I did just use the discovery of electricity in relation to a modified '92 Volkswagen.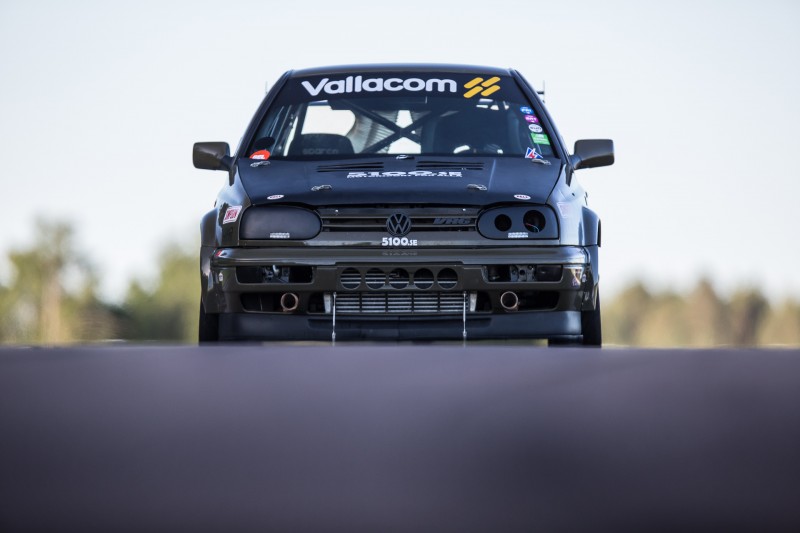 The way we discover feature cars has evolved over the years, and there are now so many different methods – at shows, on social media, people email us, or we simply stumble across them in the street (yes, really!). On very rare occasions it happens like it did when we found Stefan Behrendtz's Golf. As you will probably know by now, we love Gatebil events for the sheer variety and the 'whathehellisthat?' creations we come across.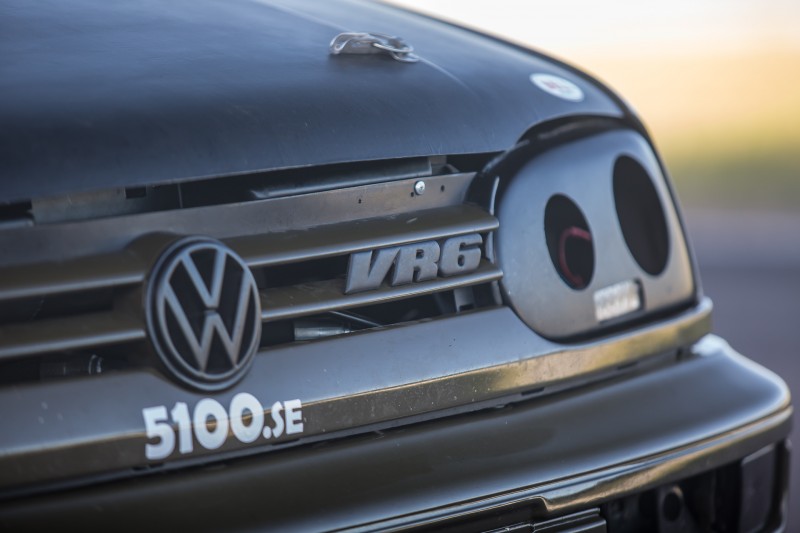 In amongst the pits and wild builds it would have been easy to miss this Mk3 Golf. But after a couple of days at Mantorp Park in Sweden earlier in the year, Larry, Rod and myself had all asked each other too many times if we'd seen that Golf. On track it was fast, really fast, and all the signs were there – from the impressive amount of traction, to what appeared to be rear-mounted radiators.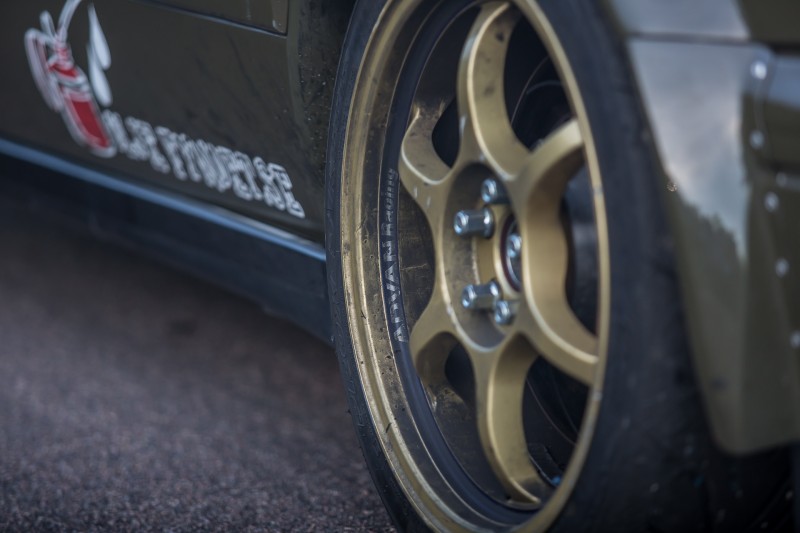 Then there were the purposeful arches and 17-inch Advan RG wheels. The eclectic feel of the VW meant there was more below the surface that we needed to find out about too. These mutant builds put together by creators with little care for the 'right' wheels on the 'right' car, are the ones I love the most. They're indulgent and built for reasons of pure purpose.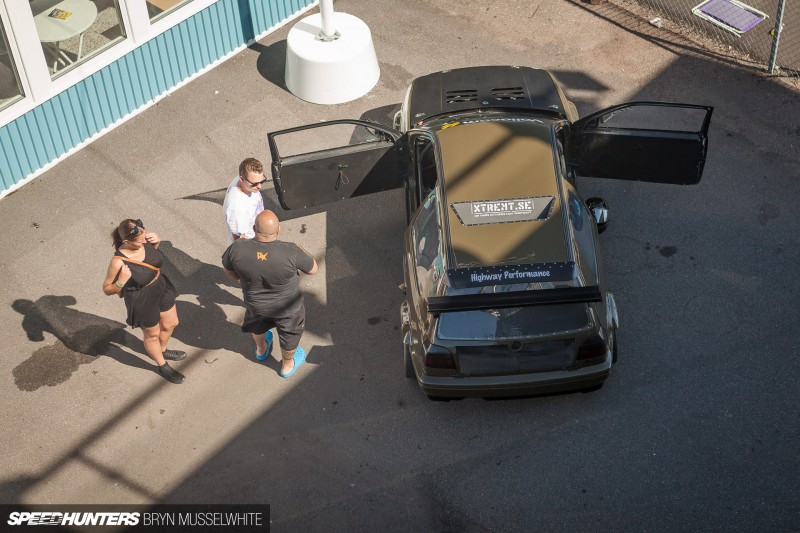 You've got to be pretty committed to the cause too, because although VW did build an AWD Mk3 Golf (called a Syncro), it was never designed or intended for this sort of abuse. So already you might be thinking, why start here?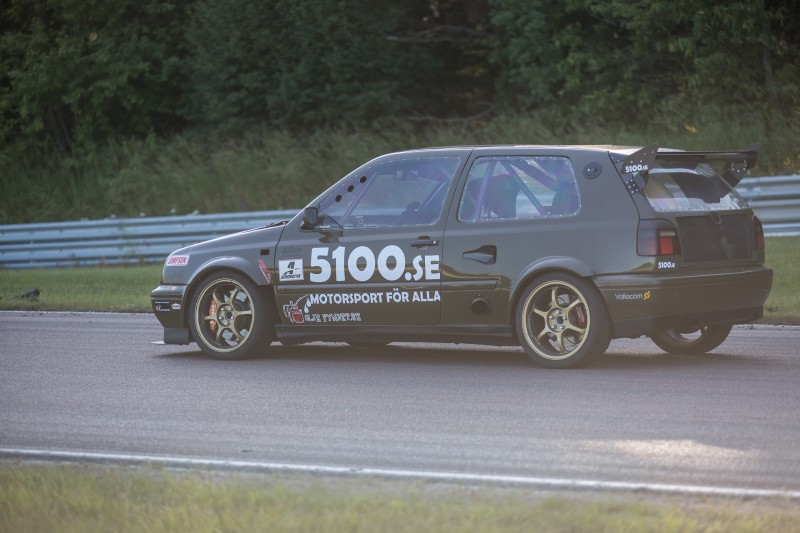 Personally, I can see a load of reasons. For a start the Golf platform is massively popular, which means everyone has a memory or an attachment of some sort. Plus there are loads of them out there, so picking up a base isn't going to be a problem. Who knows? Not Stefan, because he bought it looking a lot like this in late 2013. In fact, Mantorp Park was its first proper outing after he'd gone through it and made his own modifications.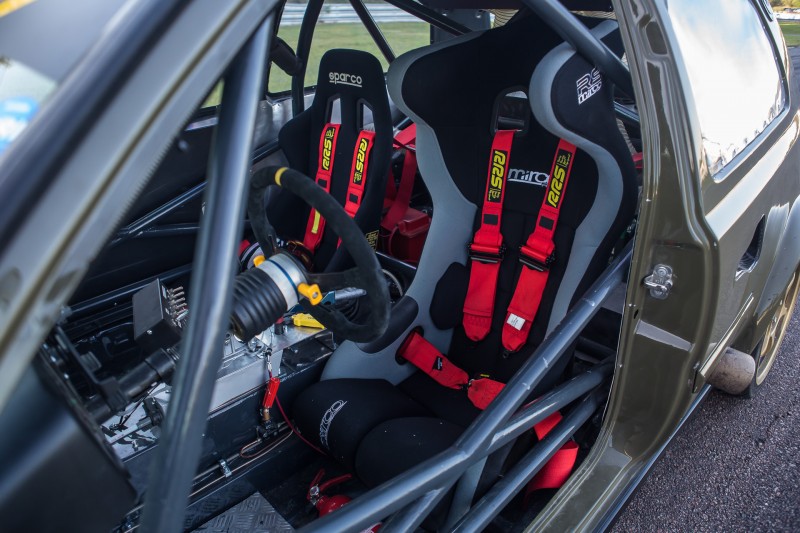 What led Stefan to owning this Golf sounds funny when he explains it. He says that after building a pretty kick-ass, five-cylinder turbo Volvo 740 – complete with a whole bunch of race parts fitted – he decided to stop playing with cars in the summer of 2013 and sell up. That's not the funny bit, obviously, no, the amusing thing is having 'given it all up' he then bought a BMW E46 M3. Giving it up… Really? That's never going to last!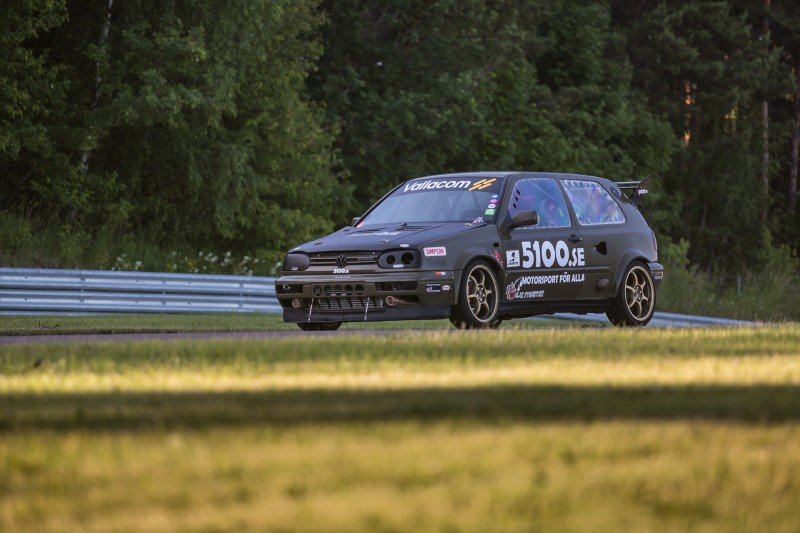 But he didn't get on with the BMW so he sold that after only four weeks. So we've gone boosted, heavily modified RWD four-door saloon, legendary naturally aspirated sports coupe, and then in December 2013 he spotted this Golf for sale. All-wheel drive, turbo hot hatch – it's like he was completing the set. Stefan remembered that it was all he could talk about when anybody would listen. A viewing was arranged – he had to make it his.
CHAPTER TWO
Pocket Explosives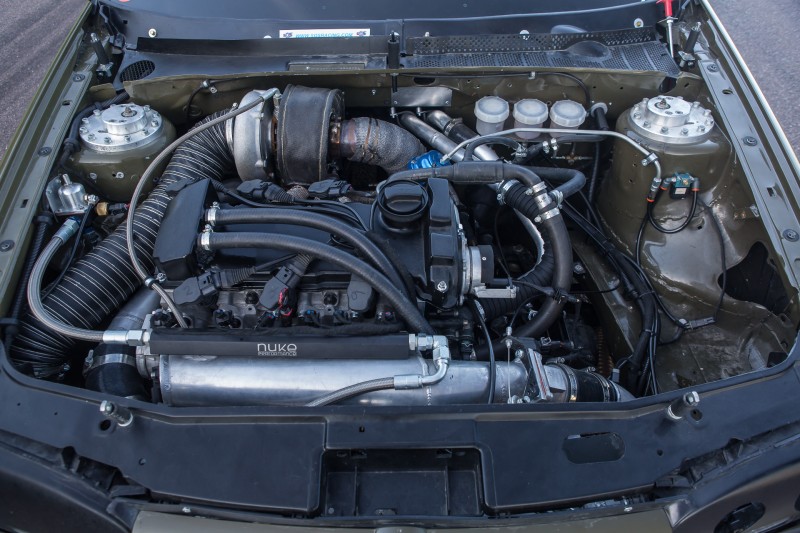 I can't imagine what it must have been like to take a test drive in a Sweden, in December, in a Golf with a dyno-proven 568whp. Sure, it's 4WD, but in my book that just means all four wheels are going to be spinning when you leave the road/track instead of two. Stefan was completely convinced and knew after a 10-minute passenger ride he was sold on it.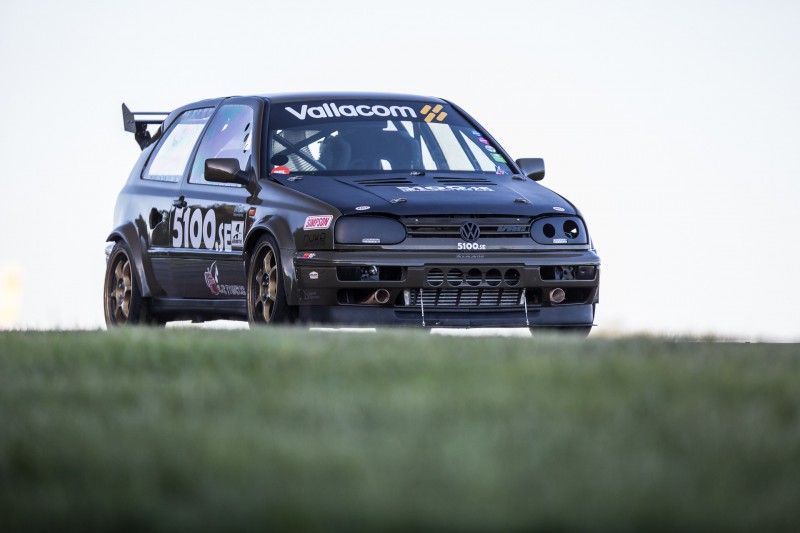 So what had he bought? A combination of bastardised and specialised hardware brought together to create a complete weapon of a Golf. There was some work to be done under the skin, with a new fuel system, cooling system, ECU and other changes made.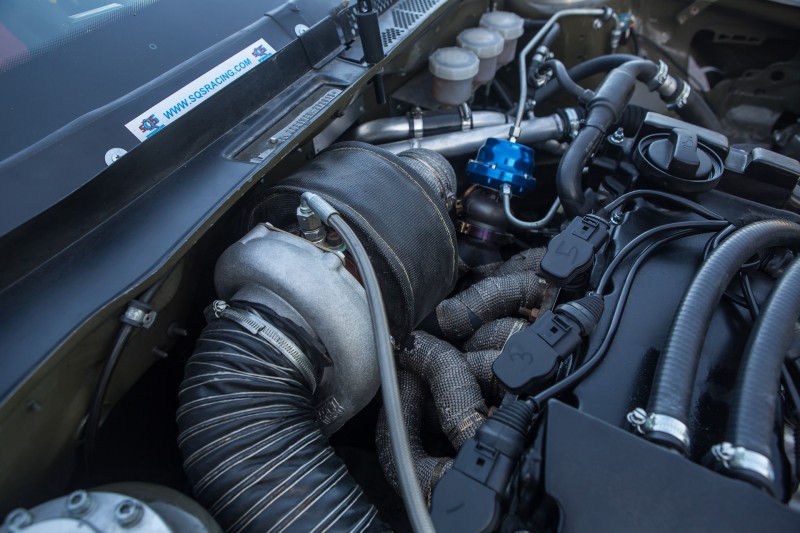 VW's VR6 six-cylinder engine has kind of been eclipsed in recent years by the smaller, four-cylinder turbo lumps from within the Volkswagen Audi Group. But the 2.8L and later 2.9L engines love the boost.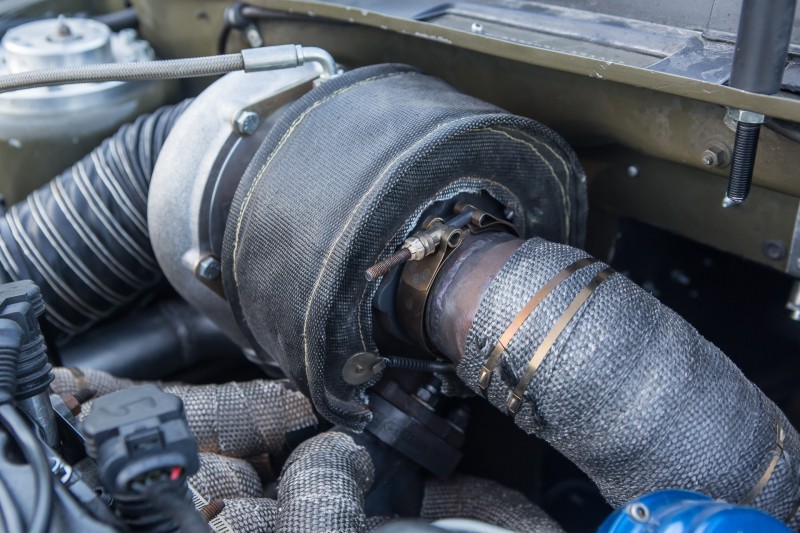 Another change Stefan made was to upgrade to the Precision Turbo 6266, which is mounted at the back of the engine bay simply because there wouldn't have been enough space to have it any lower. The intercooler sits at the front, but even with the rest of the cooling system in the rear and the bulkhead having being persuaded to give a little more room, it's still a tight squeeze.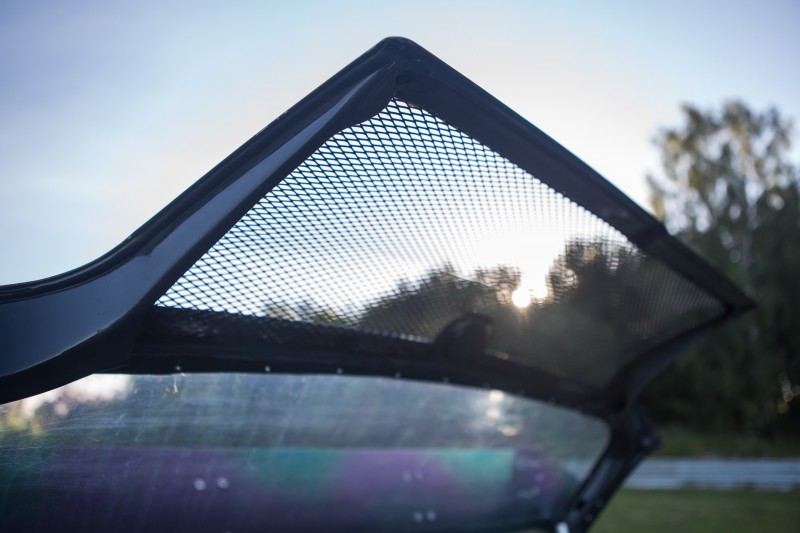 As I mentioned, one of things that had caught our eye was the mesh lower half of the tailgate. Here the license plate recess and surrounding metal having been completely removed to allow air flow to escape the two radiators.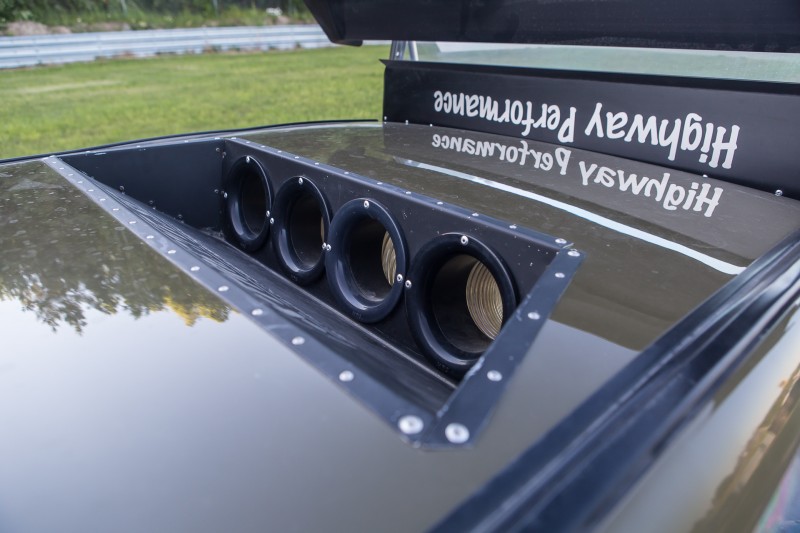 The air comes in through these rooftop vents, which are cunningly hidden away under the roof line profile, yet still provide enough air to keep everything cool.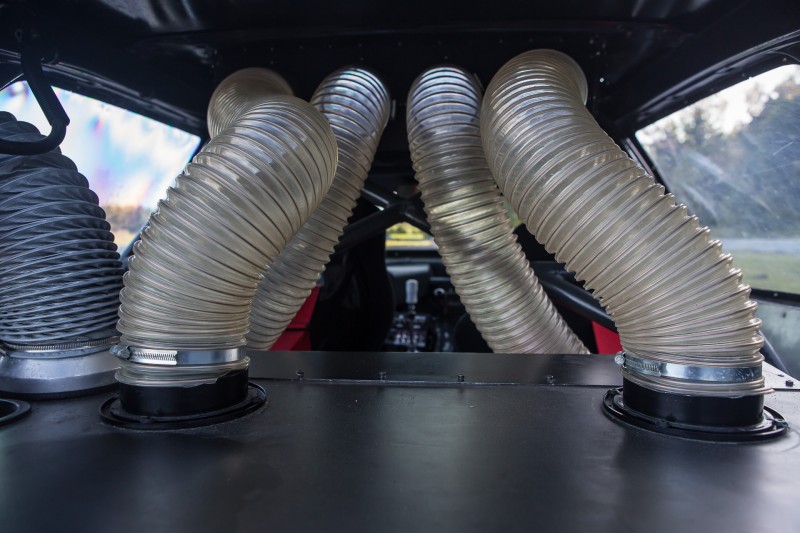 It then travels down into a sealed box through these large diameter flexi tubes. Rearward vision is largely unnecessary in something as powerful as the Golf, so who needs an interior mirror anyway? The grey tube to the left is for the fuel filler, as the tank is also buried in there. The box serves two purposes – one is to contain all that fresh air and make sure it gets to the right place, and the second is for safety in case of the radiator bursting.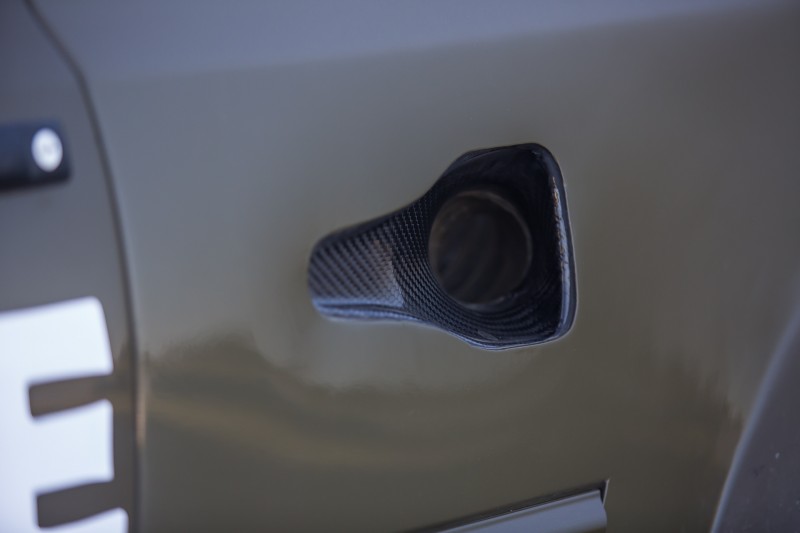 There are more air intakes on either side of the body, again recessed with no intake scoops to spoil the slippery lines of the Golf. At first I wondered how effective they'd be – my limited knowledge of aero questioning as to whether there would be some sort of vortex in the entrance – but the air flow is obviously enough to keep this thing cool.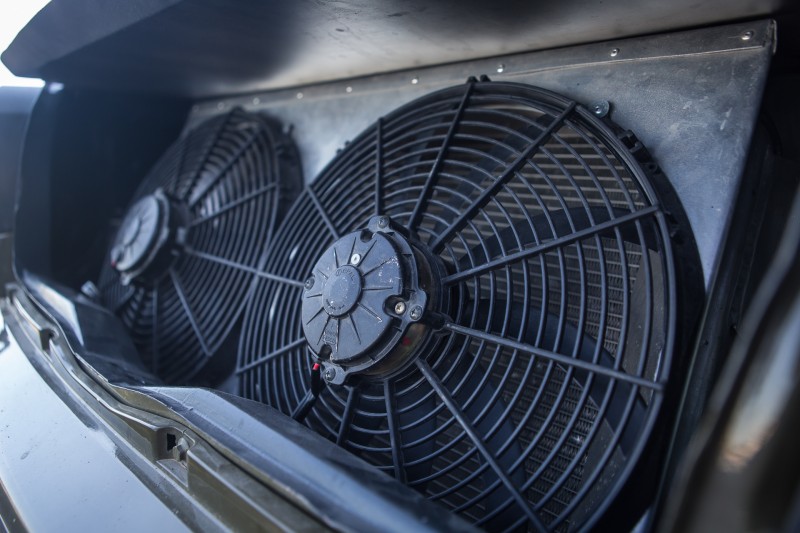 Then at last the air can be sucked through the massive radiator. I'm guessing having this extra weight over the backend helps with distribution across the platform, as the VR6 engineand turbo are no lightweights up front. Although there's also the trick 4WD system helping to even things out as well.
FINAL CHAPTER
Handled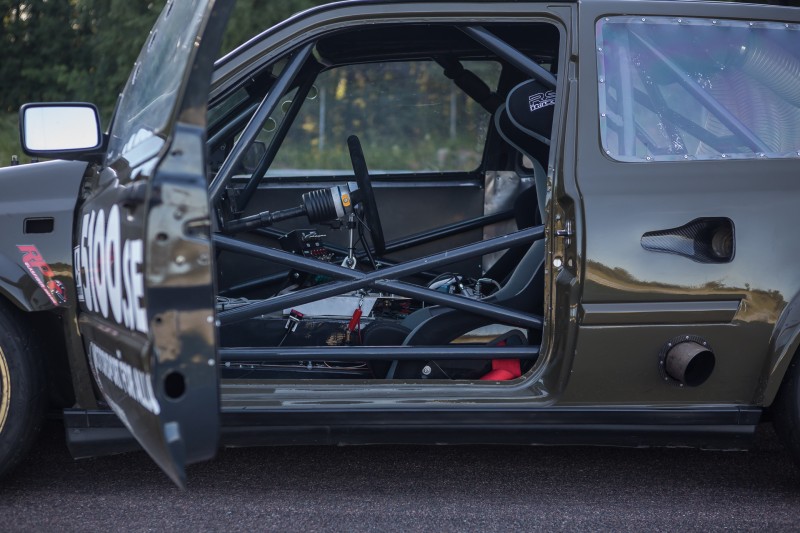 When you look closer at the Golf shell it actually seems to be a pretty good place to start a project like this, as the interior is essentially one large box for you to create a good working environment within. Here you can see how the seating positions have been pushed back to once again help with the weight distribution. You can also see how far the steering column has been extended.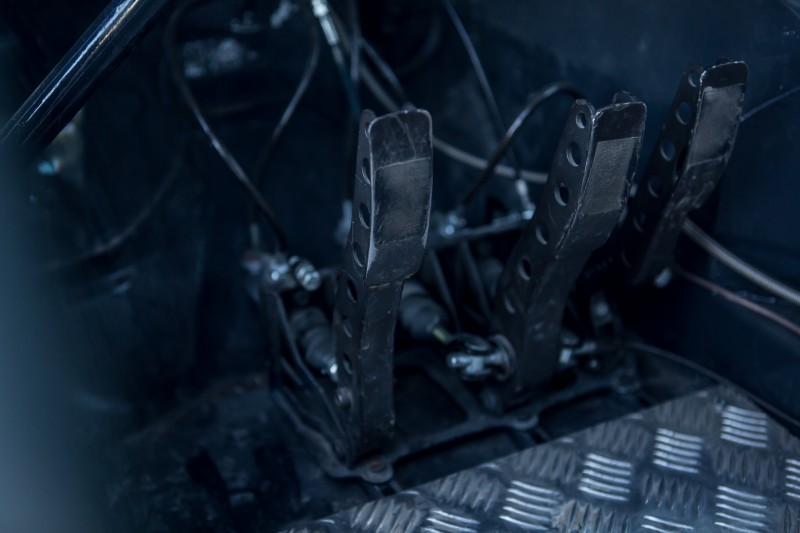 With the whole dashboard and bulkhead area having been stripped back, a floor-mounted pedal box has been installed. This sort of dedicated hardware means you can rely on it to perform when thrashing around a track. Because in the heat of the moment you don't really want a pedal snapping as you stamp on it.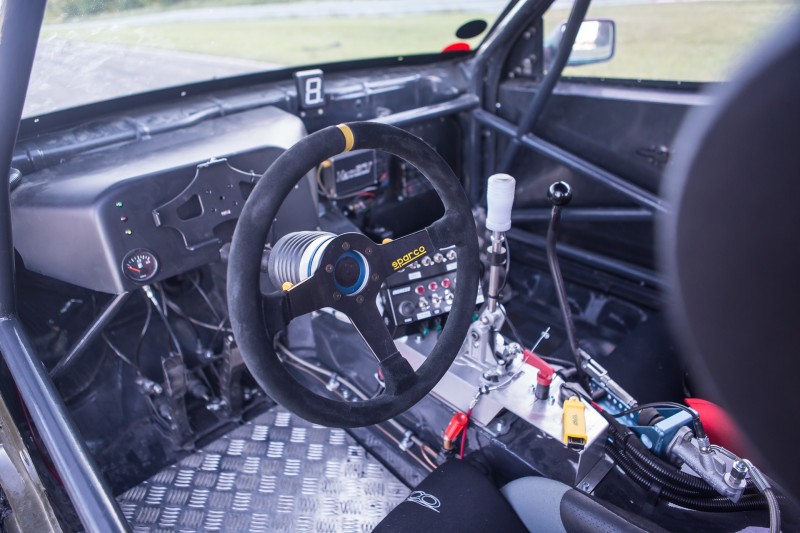 As you'd expect it's strictly business in here, and unless you really know your VWs you'd never actually guess this was a Golf. You can see the gear indicator display at the base of the screen, and the clip on the dash pod in front of the driver is designed to hold a tablet, which has a virtual dash display and is fed by the MAXX engine management system. Although, since these pictures were taken Stefan has picked up SYVECS S6 ECU to replace it, as the latter has some cool added functions he wants to try.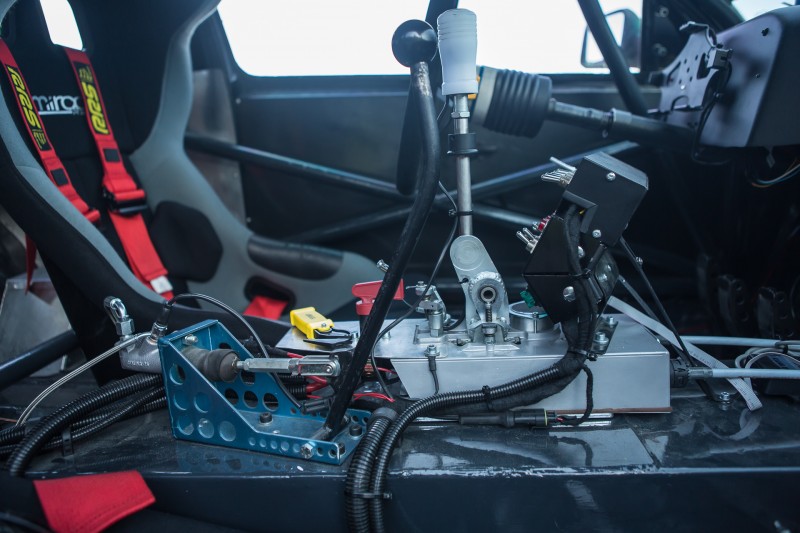 An original VW Syncro system wouldn't be up to handling the power figures the VR6 is capable of producing now. Originally Stefan was running an O2J gearbox modified with parts from SQS Racing in the Czech Replubic, and although it was a 6-speed dogbox it's got that trick sequential gear shift mounted to it. Unfortunately a week or two after this shoot – again at Mantorp Park – the 'box went bang. Something about the power being too much for the 02J! So now there's an 02M transmission being fitted during the winter months.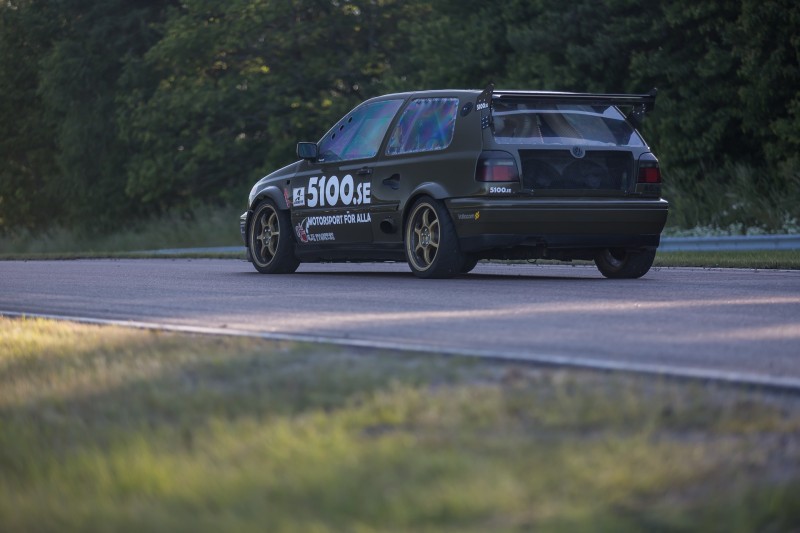 There are now also Peloquin front and rear differentials all the way from Athens, Georgia, in the US, with a Golf 4MOTION final drive and SQS Racing heavy-duty driveshafts. So it's a real international line-up which has come together to make it all work. The Haldex ECU has been deleted and replaced with an SQS solenoid which is adjustable.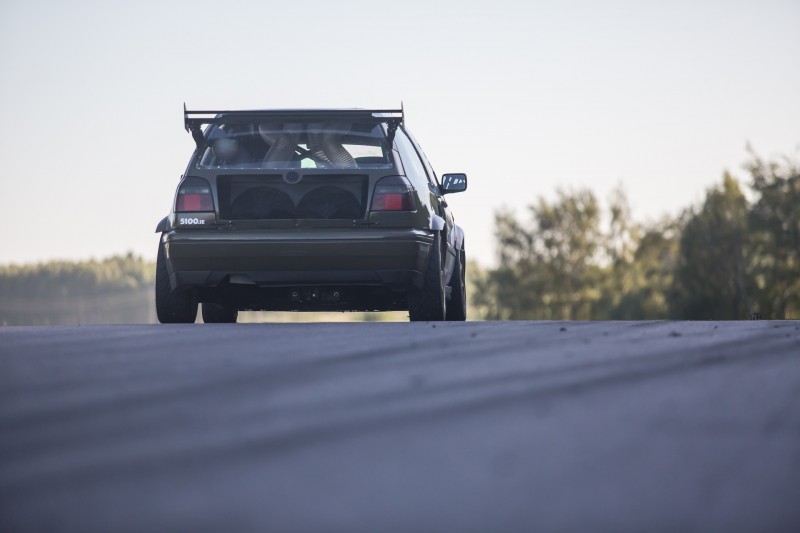 This means Stefan can choose from anywhere between a perfect 50/50 power delivery split to 70/30 front-to-rear. Although he can't go more than 50 per cent at the back.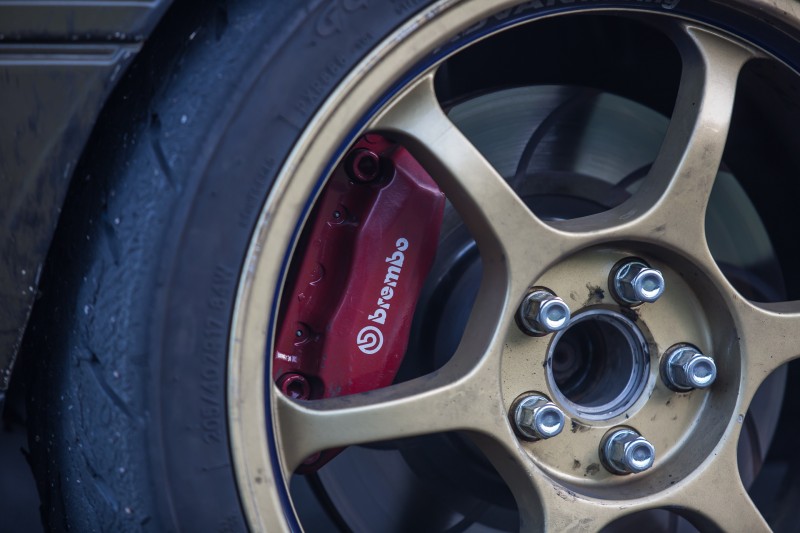 Brembo 4-piston calipers have been adapted to fit at the rear and K-Sport 8-piston calipers do the job at the front. I didn't get an all-up weight from Stefan, but having seen him in action they do the job of slowing him down just perfectly.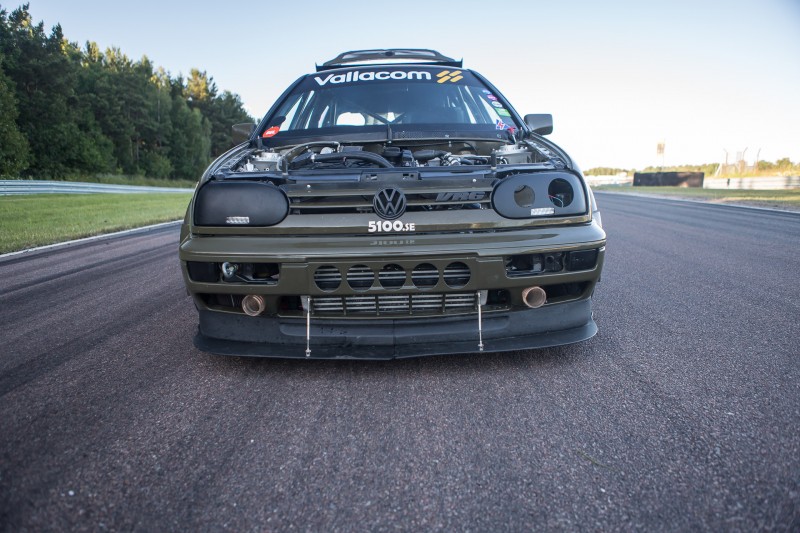 Stefan's Golf is a direct representation of the components that went in to creating it. If you take them one-by-one they all do their job perfectly well – and we've all heard names like Advan, Precision Turbo, Sparco and Brembo before. But then mixed in with them there some not so easily recognised. Put the lot together though and you can see how my theory of evolution works.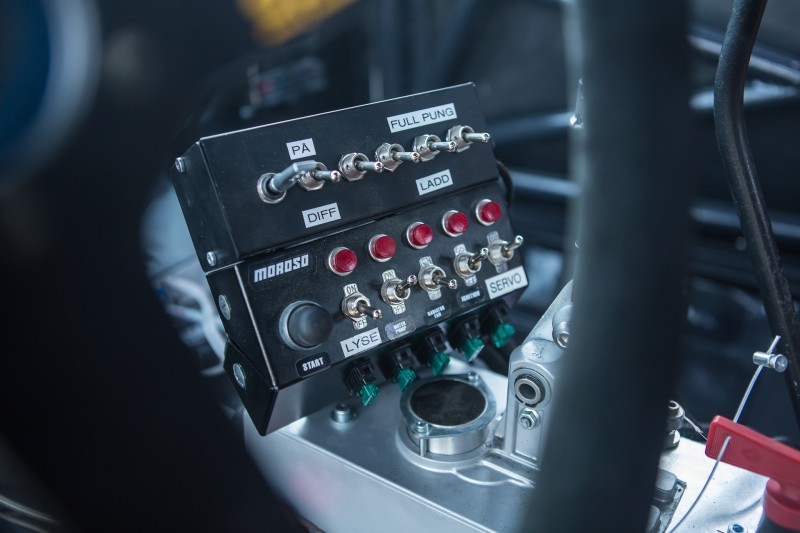 So it's a Frankenstein mix of parts, slightly battle worn and a renegade in the pits. But there's one element which sums this build up better than any other for me – the attitude it took to build it. See that sticker that says 'FULL PUNG'? Pung is Swedish slang for 'balls'. That's a motto for life right there!
Bryn Musselwhite
bryn@speedhunters.com
Instagram: Speedhunterbryn
BONUS CHAPTER
Bonus Images